Nigerian music sensation, Tems has Secured a Spot on the Prestigious 2023 Times 100 Next List.
Tems, celebrated as one of Nigeria's most esteemed international superstars, has once again captured global attention, landing a coveted spot on the 2023 Times 100 Next List. Her music prowess has not only garnered recognition but also earned the admiration of some of the world's most prominent artists.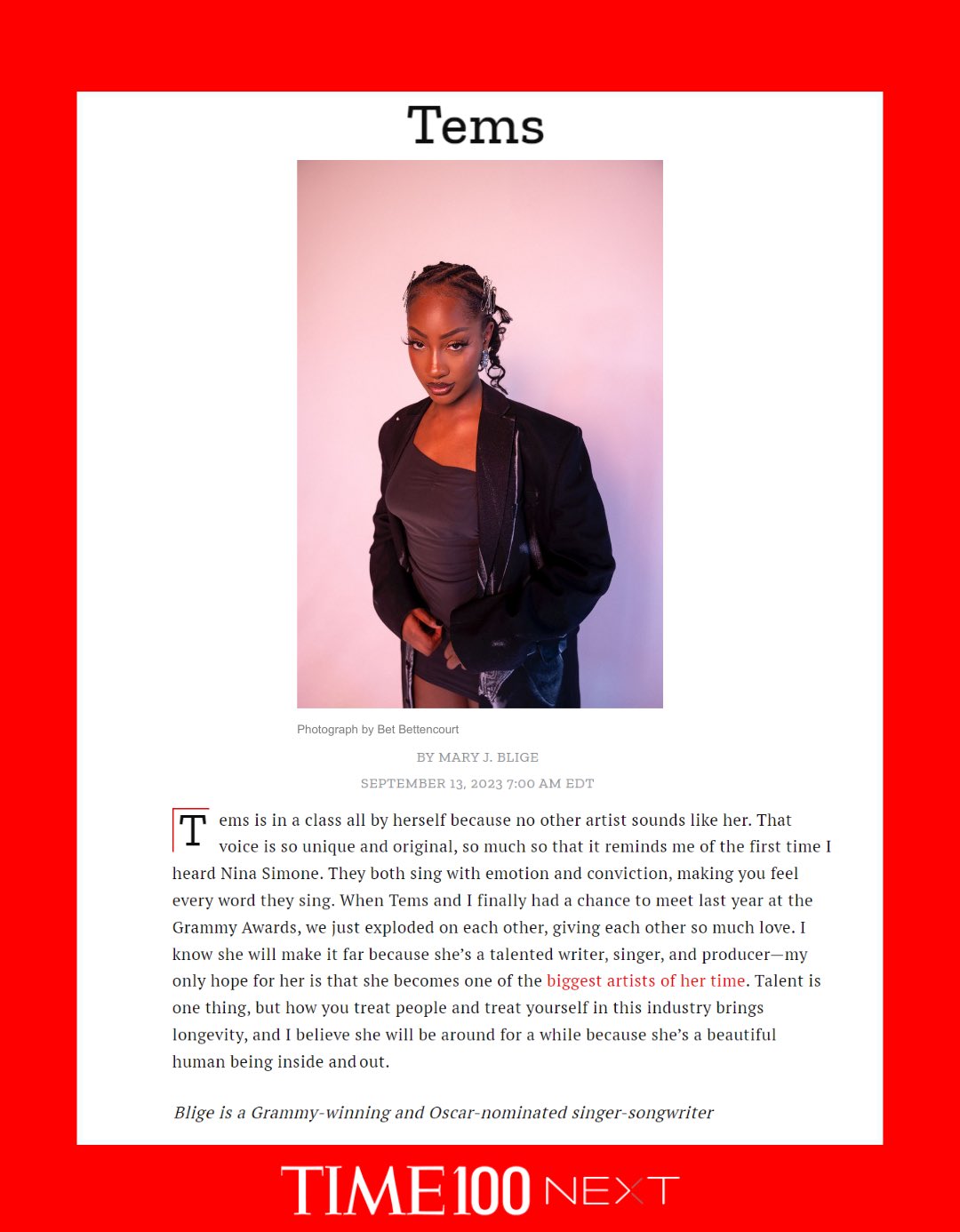 In a remarkable stride, the R&B sensation has claimed her place on the Times 100 Next List, an annual recognition that applauds 100 young individuals worldwide who are achieving remarkable feats and shaping the future across diverse domains, including health, climate, business, sports, the arts, and more.
https://x.com/IAmDonawon/status/1702050098014786010?s=20
Among the notable personalities featured alongside Tems on the 2023 list are the American music producer Metro Booming and the breakout rap sensation of 2023, Ice Spice. The list further boasts the presence of renowned figures like Kali Uchis, Hailey Bieber, and Peso Pluma, among others.
Tems has been on an extraordinary journey since her breakthrough onto the international music scene, notably contributing to Wizkid's chart-topping hit 'Essence.' Her accomplishments include being the first Nigerian female singer to clinch a Grammy Award, which she achieved in 2023 for her outstanding contributions to Future's 'Wait For U.' Additionally, Tems made history as the first Nigerian artist to debut at the pinnacle of the Billboard Hot 100 chart.
Her accolades extend to winning three BET Awards and earning an Oscar nomination for her songwriting on Rihanna's 'Lift Me UP.' As part of the tribute to her inclusion in the Times 100 Next List, American Grammy winner and Oscar nominee, Mary J Blige, penned an effusive profile, describing the Nigerian singer as a unique and original talent:
"Tems is in a class all her own because her artistry is unparalleled. Her voice is a rare gem, reminiscent of the first time I heard Nina Simone. Both artists sing with profound emotion and unwavering conviction, making each word resonate deeply with the listener. When Tems and I finally crossed paths last year at the Grammy Awards, our connection was instant, and we shared an abundance of mutual admiration. I have no doubt that she will ascend to great heights because she possesses remarkable talents as a writer, singer, and producer. My fervent hope for her is to become one of the most iconic artists of her generation. In this industry, talent is essential, but the way you treat others and yourself is what ensures longevity, and I firmly believe that Tems is a beautiful soul both inside and out."
With an eagerly anticipated debut album on the horizon, Tems is poised to soar even higher, leaving both audiences and critics eager to witness her ascent to new heights.